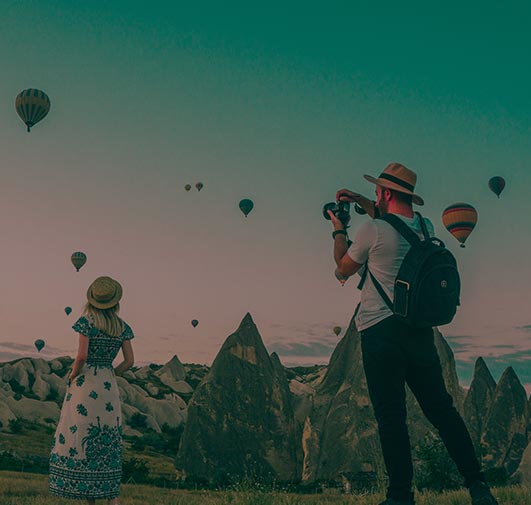 The Expert4Travel Expert...
Not just a passionate globetrotter, but a story teller who will help travellers craft their own travel story!
In this age of human-centric marketing, travellers don't choose destinations or services. They choose experiences! Expert4Travel connects travellers with travel content in terms of blogs and travel stories by our bona fide travel experts who share not just their travel expertise but also their beliefs, their values and their associations.

Our community of travel experts will help you get in touch with the feel & sense of the trip essentials, thereby sharing the details & experience over a video consultation call.

The traveller in you will always remember the conversation and act on it favourably. Expert4Travel is about offering a seamless, enriching and memorable experience on our platform at the time one starts planning their trip so that booking travel services/products becomes a lot clearer & simpler!
What is in it for for the Experts at our Expert4Travel Community
get their travel stories / travel blogs featured & showcased inspiring our prospective travelers who then are more likely to opt to consult them!
not only get qualified travel leads, but also get paid for talking to our traveller offering the best travel consultation!
get to process your travel /trip bookings, post the consultation, should you wish them to manage your travel
get to keep all commission/ booking fee of any such travel bookings as its all their business - at Expert4Travel, our business is just travel consultation!
Process of onboarding our experts on to Expert4Travel
Most of our experts are travel & tourism professionals, with years of experience managing end to end travel processes. Its not just knowledge & information, our experts possess comprehensive practical understanding as well, Some are pure travel enthusiasts with passion for a particular type of activity and explored the world seeking the thrill & joy of such activity and excel at travel planning! We go thorugh some key factors / pointers they share wtith us to help us validate their expertise for the chosen destinations & type of trip.
Number of years of experience planning & crafting itineraries and travel to all these destinations and type of trips chosen
Number of trips they have made to the destination and on the type of trips
Certification as destination specilalist/expert by relevant tourism board / tourism authority of the destination and relevant trip provider
Internet has all the information,,,but Expert4Travel experts have the experience with the knowledge & wisdom to process the right information and plan your travel precisely!